PERLEE
The following was found at an auction in Unadilla, NY.
I have no information on the purchaser but I took this picture of the Stone and recorded the information.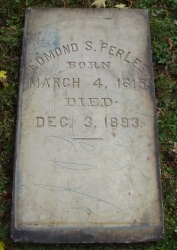 it reads:
Edmond S. Perlee
Born
March 4, 1815
Died
Dec. 3, 1893
I have no idea what cemetary or which farmer's field that it came from ... :(
I am glad it belongs to your family ... but I am sad that is the way it is found.