Martha J. Ellis
b. 1865?
d. Aug. 30, 1951
(I have copy of death certificate)
Husband - Daniel Kirkendall
Mother - Martha Jane ?? (is Jane her surname or middle name?)
Father - Charles Ellis

Children - Daniel Jr., Fannie, Viola, Luther Burr 2/8/1885 (my grandfather), & ?? (is there one more?)
Please ... if you are ancestors of Daniel, Jr. - Fanny - Viola and have information that you can share with me about
Daniel Kirkendall or Martha Ellis I would be so grateful.
If you can help me please ... email me

I'm looking in the Bradford Co. PA, Tioga Co. NY, Chemung Co. NY areas.
Martha J. Ellis was born approximately 1865 in PA to Charles Ellis and Martha Jane. (Mother's name is listed on Martha's death certificate as Martha Jane so is Jane the surname or middle name?).
Background:
1860 - The 1860 Census Record for Springfield, Bradford Co., PA shows Charles Ellis age 34 with wife Martha age 28 and 2 daughters Adeline? age 8 and Edith age 2. He is a farmer with valued real estate of $1200 and personal estate value of $600.
Is this my Martha's parents and older sisters??????
I have found no information for 1870 or 1880
Martha J. Ellis married Daniel Kirkendall - date unknown
4 children are born (however a census in later years states 5 children)
Viola, Daniel Jr., Luther, Fannie
I have no info on Viola
Daniel Jr. was born in 1883 - 85: I need verification as his WWI registration states Dec. 28, 1885 (and I believe he was older than Luther)
Luther was born in Litchfield, Bradford Co., PA on Feb. 8, 1885.
Fannie was born in Windham Twp, Bradford Co., PA on Feb.22, 1894.
According to the story told by Luther (my grandfather), his father Daniel was killed by a train when he was 9 years old. I remember him telling me the story of how someone brought his father's body to his mother in a bushel basket, setting it on the porch, knocking on the door and informing her that it was her husband in the basket.
If Luther was 9 years old then Daniel would have died in 1894, however according to death records for Bradford Co., provided online there is no record of his death.
A story told by Uncle Luther (Luther's son), he states he knew that his grandmother Martha was alive and in the Chemung Co. Home, that he remembered visiting her. He stated that she was in an insane asylum because her daughter (maybe Viola?) picked up Daniel's head from the bushel basket and set it in her lap. How grotesque is that ??? And he stated that made Martha go beserk and she went to the insane asylum. The problems with this story is that in 1910 Martha is a housekeeper in the town of Chemung. There are possibilities that because I cannot find evidence of Daniel's death in 1894 that maybe he died many years later closer to 1910 and Martha attempted to keep going in life by doing housekeeping and found that she just could not cope. Must investigation is needed on this !!
I have no information for 1890 or 1900
1910 - In the 1910 Census I finally find her living in the Town of Chemung, Chemung Co., NY. She is age 44 and living with a Man named Lewis Stage age 74 as his Housekeeper on Arnot Road. This is the first time I find a middle initial. *J* This census tells that she has 5 children and 3 are alive.

I know she had Daniel, Viola, Fanny, Luther and who is the fifth? I heard maybe Henry and maybe Clifford (although I think Aunt Edie said that Clifford is Viola's husband) And what 2 have died?

2003 - I posted to a forum for Stages hoping to find information on Martha and received this reply


Lewis Stage was one of my gr-gr-grandfathers. So far as I know, your Martha living in his home as housekeeper in 1910 was not related to the family. I have not come across any Kirkendall connected to the Stages. Entries in family Bibles most often refer to family members and occasionally to close or special friends, but I haven't encountered a case where the housekeeper was recorded there. I don't know if Lewis had or passed on a family Bible in any event. My paternal grandmother (Lewis' granddaughter) passed on her Hugg family Bible, but did not have any Stage family heirlooms other than pictures of her mother and one photo of Lewis toward the end of his life. Bracketing your Martha's stay in the home: in 1900 Lewis was living in Baldwin with his wife Elizabeth (maiden name Tilman), and in 1915 he was living alone on Putnam Hill. In 1920 he was living with daughter Delphene and her husband William (my grandmother's parents). Lewis died in 1923. I would guess that Martha was indeed what she appears to have been as recorded in the census: a live-in housekeeper, and then not for very long. Roy Theetge San Antonio, Texas
1920 - According to census records Martha age 54 is now living at The Chemung County Almshouse in Breesport, Horseheads Twp., Chemung Co., NY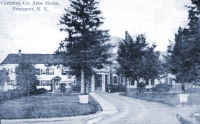 Chemung Co. Almshouse
I have been informed by asking for information on a Chemung Co. message board that the Alms House was a home for the poor and people who had no where to go and they frequently regarded them as inmates (as the census records state). Unfortunately I also was told that all records about the home were destroyed in the Agnes flood of 1972.
1930 - Census records show her still a resident of the Chemung Co. Almshouse, Breesport and North Chemung Rd, Horseheads Township, NY. (Otherwise known as *The Poorhouse*) She is listed as *inmate*.
They have listed her age as 70 but this age is wrong and she is 64. She is listed as Widow and was born in NY with both Father and Mother also born in NY. (which would contradict the 1860 census of Charles Ellis and Martha Jane as that census states Martha Jane born in PA)
1940 - no info but assume she is still living at the Chemung Co. Home
1950 - no census info but:


It begins with a little newspaper clipping given to me by Aunt Edie Roupp. It is a tiny clipping but holds a wealth of information on Martha. The clipping with a small piece missing gave me a starting point to begin. It is as follows:
"Martha Kirkendall, formerly _______ Town of Chemung. The body ______ Olthof Funeral Home, 1050 Pennsylvania Ave., where funeral _____ held today, 11 a.m. The ___ _loyd F. Shephard. Woodlawn Cemetery."
Aunt Edie has hand written on it in pencil the year 1949 (proven to be 1951 by her death certificate). (a chip of paper is missing, thus the _____ and I believe it might have said *Rev.* and his name was either Floyd or Lloyd F. Shephard.)

My search began by contacting the funeral home. I emailed them hoping for information.
Unfortunately my response from them is that they didn't keep records of who was at their funeral home. *dead end* :(

If you have any information on the Reverand Shephard and where I might find his service records please contact me at mykirkendall@lycos.com

update!!! July 29, 2004 - Finally... waiting one year after ordering, I received a copy of the requested death certificate for Martha Kirkendall from NYS.--- SUCCESS!!! She is our Martha. According to the death certificate it tells that she is the widow of Daniel Kirkendall. I've learned that her father's name is Charles Ellis and her mother's name is Martha Jane (I don't know if the Jane is her surname or middle name) :(
Martha was approximately 86 years old when she died. She was a resident of the Chemung Co. Home in Breesport, Horseheads for 25 years until her death.(she actually lived there from some time after 1910 but possibly the home was changed to a home for the elderly and they considered her resident there from that time. (further investigation is required on this). 10 days prior to her death she fell in her room at the home and fractured her right hip. She was taken to Arnot Ogden Hospital and was under the care of Joseph McConnell M.D. She died 10 days later and was taken to Olthof Funeral Home. The rest is pieced together from that little piece of newspaper clipping that Aunt Edie gave me. Her funeral at Olthof's and her burial at Woodlawn. As no one in the family knew that she was there I imagine there was very few attending her funeral.
1930 Chemung County Census - Roll T626-1415 ED 52 Sheet 2A
1920 Chemung County Census - Roll T625-1093 ED 54 Sheet 4B
1910 Chemung County Census - Roll T624-931 ED 6 Sheet 7B