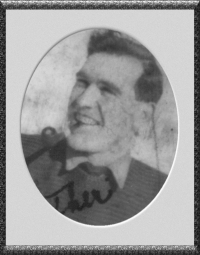 Luther (Alison) Burr Kirkendall
b. Feb. 8, 1885 - Litchfield, PA
d. Sept. 6, 1972 - Arnot, PA - Arnot Swedish Lutheran Cemetery

click on thumbnail to see a larger view
Wife - Edith Mae Wilson
Father - Daniel Kirkendall
Mother - Martha J. Ellis
Siblings - Daniel J., Jr. - Fannie - Viola
Children - Edith Martha, Caroline Marie, Helen Kathlyn Isabell, Luther Miles, Delmer William
Please ... if you are ancestors of Daniel, Jr. - Fanny - Viola and have information that you can share with me about
Daniel Kirkendall or Martha Ellis I would be so grateful. I have not had any luck in my searches.
What I know...
1885 - Luther was born in Litchfield, PA the son of Daniel Kirkendall and Martha Ellis in 1885. I have searched census records in the Bradford Co., PA area but have found nothing.
1918 - 05/14/04 - The web we weave in genealogy. I have found the registration draft card for Luther. Imagine my surprise to learn that his middle name is NOT Burr like he always told us. His name was Luther Alison Kirkendall. He registered for the draft on September 12, 1918 in Bradford Co., age 33, stating his occupation as a track laborer on the Pennsylvania Railroad in Troy, PA and he resides in RR4, Troy, PA. His nearest living relative is his brother Danial (that is how Luther wrote it rather than Daniel) Kirkendall of Seneca Falls, NY. This leads us to wonder where his parents got the name Alison and who would blame him for changing it and it makes us wonder where he got the name Burr. Looking into census records, I may have solved the Burr. There are Burr's living in Troy and Canton, PA. He probably was friends with them as they are his approximate age and he took that name in later years as his middle name.
1920 Census finds Luther at age 34 living in Bradford County, Springfield Township, PA. He is a border at the LEONARD residence. He is a laborer on a farm. Click here to see pictures of Luther and the Leonard Family
also: I have found a Luther Kirkendall born in PA, living in Texas, boarding and working as a laborer in the 1930 census. Checking into the possibility of this being him. Hoping Aunt Edie can remember if he ever was gone for a while when she was about 4 yrs old.
According to Aunt Edie Kirkendall Roupp:
When Luther and Edith Wilson married, they lived in Green, NY where my Aunt was born in 1926. She states that they moved around and lived in the following areas: Berkshire, Newark Valley, Birch Hill and Barton, NY.
Luther worked for a farmer in Barton named Bill GREEN. Bill Green was murdered. I have no information regarding this yet.
When EdithWilson Kirkendall died and their Uncle George could no longer help with the children, Luther was forced to scatter them in others care. Aunt Edie (named after her mother) went to live with her Aunt Minnie (Edith's sister), Aunt Helen and Aunt Caroline were sent to Harrison Valley Children's Home in Harrison Valley, PA, later Aunt Helen lived with _____ REED in Pine City, NY whom she always called *Ma Reed*, Uncle Luther (named after his father) and Delmer (my father) were sent to live with a foster family by the name of PLUMBLY, (?) also of Harrison Valley, PA. They all lived in these places for approx. 3 - 4 years until Aunt Edie was old enough and Luther gathered all of the children and moved to live on the Russell KENDRICK farm in Mansfield, RD3, PA and let Aunt Edie help raise her brothers and sisters.
According to Daddy (Delmer), he remembers that when they were all gathered back together to live on the Kendrick farm in Mansfield that his Uncle George Wilson moved back in with them for 3 or 4 years to take care of them when the older girls were in school. He said that his dad, Luther, finally asked Uncle George to leave cause he was mean to the kids.
If you can help me please ... email me