Luther Burr Kirkendall Brother and Sisters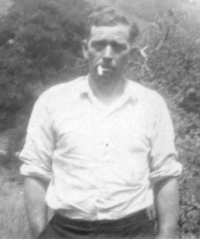 Daniel J. Kirkendall
B. Dec. 28, 1885? (1884)
D. Aug. 12, 1956
Wife - Never married
Father - Daniel Kirkendall
Mother - Martha J. Ellis
Siblings - Fannie b. 2/22/1894 (see below) - Viola (no Info) - Luther Burr b. 2/8/1885
Please ... if you are ancestors of Daniel, Jr. - Fanny - Viola and have information that you can share with me about
Daniel Kirkendall or Martha Ellis I would be so grateful.
If you can help me please ... email me

1918 - I found Daniel J. Kirkendall's registration draft card. Unfortunately it is very difficult to read. It looks like his date of birth is Dec. 28, 1885. (If this is what I see, then he is 10 months younger than Luther instead of being the older brother that we always thought). His age looks to be 33 just like Luther's age. The registration was recorded Sept. 12, 1918 in Waterloo, NY. He lists his residence as RD4 Seneca Falls, NY. He is employed as a farmer for William St**** (looks like Stake) of Seneca Falls, NY., and his nearest living relative is his brother Luther A. Kirkendall but I cannot read the town he lives bur assume it says Troy as that is where Luther's draft card states as his residence.
1930 - I found Daniel J. in the 1930 census living in Chenango Co., Smithville Township, NY. (Take note that this is near Greene, NY where Aunt Edie was born). Daniel is age 46 in the census which was taken April 19. He is the head of the household paying rent of $3 per month for his house. He is listed as a garage laborer and working at the time. He also has 2 borders living with him. Tammie (?) Lichman age 22 who came to the U.S. from Russia in 1909. She is a teacher at the public school. Also living with him is Isaac Th_rt? Age 24, born in Ohio and he is also a teacher.
Fannie Kirkendall
B. Feb. 22, 1894
D. ?
1894 - Towanda Courthouse records has the birth of Fannie Kirkendall recorded there on May 8, 1894. She was born February 22, 1894 in Windham Township, Bradford Co., PA. Parents listed as Daniel and Martha J. Kirkendall. Father is a farmer.
Viola Kirkendall
B. ?
D. ?
Need info on Viola ... can you help ?